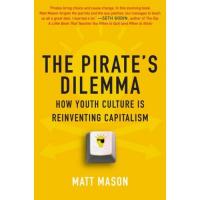 Well, yes, here's some more stuff on innovative business models in the media industry. I enjoyed Piracy, Morals and The Need for Change and The Generational Divide in Copyright Morality by David Pogue in the NYT. It's all about Matt Masons new book, "The Pirate's Dilemma: How Youth Culture is Reinventing Capitalism", where Matt argues for piracy as a business model rather than a threat. In a podcast with BusinessWeek he discusses the history of piracy – and how it drives innovation, get the mp3, alas it's a low audio quality phone interview.
There's also this slidecast, an extensive website with even more stuff and more:
|
View
|
Upload your own
All of this should remind us that sometimes pirates are among the most avid users of media, are utterly creative in getting around restrictions, are hackers/tweakers/pilot users/avantgarde/ideal players for an open innovation strategy/… and that they just can't be stopped:
A teenager hacked into the outfit charged with protecting companies like Sony, Universal, and Activision from online piracy—the most daring exploit yet in the escalating war between fans and corporate giants. Guess which side is winning.