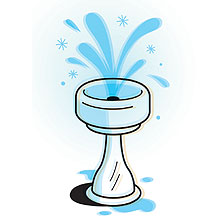 As I am checking my backlog of posts I wanted to write in relation to the Davos forum ("World Economic Forum's annual meeting") I found this post of mine on a Technology Review article, noting an interesting comment by Sheldon Buckler on the importance of permanent (business model) innovation and board level support: "Corporate Fountain of Youth".
A deeply ingrained culture of innovation is vital for all companies, but particularly for those that are technology based; it is innovation that allows a technology company to continually generate new business. For this kind of culture to take hold, all the microcultures in a ­company – including those devoted to business planning, marketing, operations, and developing new ideas – must be understood, supported, and (though they may at times seem incompatible) brought together under leadership that truly cares about creativity.
He ponders this fuzzy innovation incompetence, which in turn threatens the long-term prospects of firms, and calls for more powerful innovation promoters in the enterprise. Well, yes.