E-Mail is increasingly replaced by collaboration software like wikis and blogs, one thing that I have been pondering off lately (and thanks to Rod for triggering this off …) are the user acceptance/change management/etc. issues that rise when this stuff is implemented …
While the fast adaptors on the web are digging (no pun intended) cool stuff, people in organizations are not really interested in change. And replacing or complementing costly workplace systems like Notes et al. is something that people (and the IT department) are loathing … partly with good reason. So what to do? Perhaps MS will speed things up, when they combine Office (Live), SharePoint Portal and more, plus adding RSS-functionality into Windows, thereby offering a way for IT departments to dive into wikis and more …
In the end enhancing knowledge work is the thing everything boils down to … ?
Here this article in BusinessWeek comes in handy, touching on the uses of wikis in the workplace, noting that email has "turned into a maddening time waster" and more:
[knowledge workers] are ditching e-mail in favor of other software tools that function as real-time virtual workspaces. Among them: private workplace wikis (searchable, archivable sites that allow a dedicated group of people to comment on and edit one another's work in real time); blogs (chronicles of thoughts and interests); Instant Messenger (which enables users to see who is online and thus chat with them immediately rather than send an e-mail and wait for a response); RSS (really simple syndication, which lets people subscribe to the information they need); and more elaborate forms of groupware such as Microsoft Corp.'s () SharePoint, which allows workers to create Web sites for teams' use on projects.
and that
Internet research firm Gartner Group predicts that wikis will become mainstream collaboration tools in at least 50% of companies by 2009.
and
[…] companies have invested 95% of their spending in business processes, […] a scant 5% has gone toward supporting ways to mine a corporation's human capital. […] the beyond-e-mail workplace will become a key competitive advantage. In the global race for innovation, it's not as much about leveraging what's inside your factories' machines as what's in your employees' heads.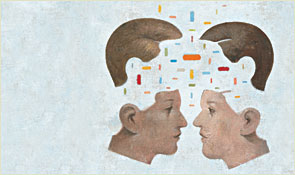 An interesting read is also this article by McKinsey consultants Johnson, Manyika and Yee in the lastet McKinsey Quarterly on the next revolution in interactions, holding that
Successful efforts to exploit the growing importance of complex interactions could well generate durable competitive advantages.